ads not by this site {| cellpadding="3" cellspacing="0" class="infobox hproduct"! colspan="2"|Freedom Fighters|-| colspan="2"|[1] North American cover art for Windows |- |Developer(s) |IO Interactive |- |Publisher(s) |Electronic Arts |- |Composer(s) |Jesper Kyd |- |Engine |Glacier (modified) |- |Platform(s) |Microsoft Windows Nintendo GameCube PlayStation 2 Xbox |- |Release date(s) |
|- |Genre(s) |Third-person shooter |- |Mode(s) |Single-player Multiplayer |- |Rating(s) |
|- |Media/distribution |CD DVD Nintendo optical disc |- | colspan="2"|System requirements Microsoft Windows
|}
Freedom Fighters, originally titled Freedom: The Battle For Liberty Island, is a 2003 third-person shooter video game available for the PlayStation 2, Nintendo GameCube, Xbox and Microsoft Windows that is set in an alternate history. The player takes the role of Christopher Stone, a plumber-turned American Resistance movement leader who fights against the Red Army that invades and occupies New York City in the present time. It was developed by IO Interactive, using a modified version of the Hitman 2: Silent Assassin game engine and published by Electronic Arts.
Freedom Fighters is a third-person shooter, in which the player navigates through the streets of New York while fighting the Soviet forces.  The game also contains squad-based elements, having a charisma meter.  The player gains charisma by performing heroic deeds in the resistance movement against the invading forces, like capturing a base or destroying vital supplies.  The more charisma that is gained, the more squad-mates the character can recruit, including leaderless guerrillas and wounded Russian soldiers, up to a maximum of twelve.
Freedom Fighters uses a simple method of controlling recruits in battle.  In the game, the player can command recruits by giving them simple orders such as "follow", "attack", and "defend", but in most situations, they take care of themselves.  Given the terrain of New York City after the initial invasion, the Resistance usually stations its soldiers in covered positions like craters and buildings.
Multiplayer
Edit
Multiplayer revolves around securing flags and bunkers. The flag that a player needs to capture and hold is usually in the center of the map. Bunkers are positioned around the map, and spawn either Soviet soldiers or American freedom fighters. Players can know who the bunkers belong to because of a star above each one; a Soviet bunker is marked by a red star, while an American bunker is marked by a blue star. In each game, there can be up to four players, who can choose between the Soviet and American sides. Each side has a different set of weapons. The players can switch weapons in battle. In each map, there are several areas where weapons and ammunition are stored. Each bunker also has one medical kit and one ammunition can, so every bunker is vitally important. Each player also has their charisma meter set to eight, so each player can have a maximum of eight soldiers under their command; however, if it is a four-player battle, each player can control a maximum of four soldiers. The players can select a map to fight in: Greenwich Village, where there are four bunkers surrounding the flag; Brooklyn Rooftops, with four adjacent bunkers with the flag between the middle two bunkers on a building; and Fort Jay, a nighttime scene with four bunkers at the edge of the map with the flag in the middle.The pc version does not have multi-player support.
The Soviet Union became the world superpower by dropping the first atomic bomb on Berlin and ending World War II, thereby propping up communist throughout the globe, which begin to surround the U.S in the present day.  New plumbing brothers Chris and Troy Stone travel to meet with their next client, an activist named Isabella Angelina.  The Stones appear at her home only to find it abandoned.  The Soviet Union launches a surprise invasion of New York City and suddenly Soviet soldiers led by General Tatarin seize Troy.  Amidst the attack Chris escapes to the streets, encountering a man named Mr. Jones and resistance member Phil Bagzton.  After rescuing Isabella from a police station and Troy from a post office, the group retreat to the sewers and set up a base of operations as New York is lost.
Months later, Chris, Phil, and Isabella sabotage key Soviet facilities and reclaim areas within the city, building up a resistance group of New York citizens and disillusioned Soviet soldiers.  Delivering serious damage to the Soviets, Chris becomes known as the "Freedom Phantom" within the Soviet-controlled media, SAFN.  Later, Troy is captured by Soviet troops and tortured for information.  Forced into issuing a public statement aimed at the resistance to cease their actions, he instead urges Chris to continue fighting for which he is executed by General Tatarin.  Mr. Jones suggests assassinating Tatarin in retaliation and Chris succeeds, only to return to find Isabella missing and the resistance base occupied by the Soviet army.  The operation was orchestrated by Mr. Jones who reveals that he is the KGB agent Colonel Bulba, as he explains this as his source of information.  Betrayed, Chris escapes with Phil and others to a new underground area while SAFN reports on the death of Tatarin, Colonel Bulba's promotion to General and the end of the resistance in New York.
During the winter, Chris leads the resistance deeper into occupied New York, culminating with a major raid on SAFN Studios.  He uses the station to send a broadcast encouraging the city and beyond to rise up and end the Soviet occupation.  A final assault on Governor's Island consisting of massed resistance forces is planned.  After taking over the island and rescuing Isabella, New York is liberated for the time being as Chris and the group solemnly celebrate their victory.
Characters
Edit
Development
Edit
[3][4]SoundtrackTheFreedom Fighters original soundtrack was composed by Jesper Kyd and released on September 29, 2003 by Sumthing Else and Nano Studios. It was GameSpot's "Best Game Soundtrack of the Year 2003" and Game Reactor Magazine's "Best Game Music of the Year". Tracks 1, 2, 3, 9, 10, 14 and 16 are performed by The Hungarian Radio Choir.[1][2] The music has grand, Soviet-style, choral arrangements and the synth parts bring Vangelis to mind, indeed one reviewer referred to it as "Vangelis on steroids".[3]
He describes his thinking behind the score thus:
"
I researched Russian music scales and specifically what makes Russian music so unique. The history of the Soviet Union and the Cold War conflict were also major contributing influences.

Not many people know this but I wrote the Freedom Fighters score in Manhattan right after 9/11. It was quite a strange time writing music for a story about a foreign power invading Manhattan. I spent a lot of my time just playing the game to get a real, in-depth sense of the experiences that I needed to dramatize. I probably spent way too much time playing the game, but I just loved the fact that you could become a freedom fighter and help free New York City from an invading army.

"
It received a score of 7.5/8.5/8 from Electronic Gaming Monthly: the first reviewer, Joe Fielder, called the game's core gameplay mechanic "damn fun to play", but criticized its cutscenes and said that "you come away from Freedom Fighters wanting more. Just when the game really hits its stride, it's over—and neither playing its under utilized multiplayer mode nor beginning the whole affair over again on a harder difficulty setting will quite satisfy your need". The second reviewer, Shawn Elliott, called it "easily one of the best all-out action games I've played all year".[4]
On April 6, 2004 Eidos UK revealed plans for the sequel.[5] Eidos announced it would distribute the sequel in the first half of its financial year 2006, which would mean the latter part of 2005. However IO Interactive announced development of a new intellectual property, Kane & Lynch: Dead Men, casting the future of a Freedom Fighterssequel in doubt.[6] In late 2007 a representative of IO said in an interview about the upcoming Kane & Lynch: Dead Men that a sequel for Freedom Fighters was still on the company's 'to-do' list.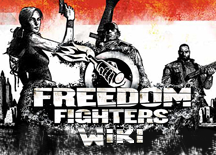 Ad blocker interference detected!
Wikia is a free-to-use site that makes money from advertising. We have a modified experience for viewers using ad blockers

Wikia is not accessible if you've made further modifications. Remove the custom ad blocker rule(s) and the page will load as expected.